"Prescription For Murder"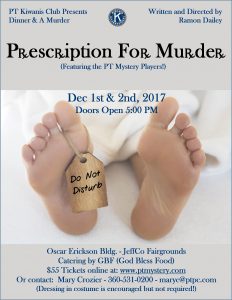 Arrange your 2017 Holiday Party with one click!
Tickets are selling fast for the annual Dinner and a Murder fundraising show that is sponsored by the PT Kiwanis Club. Tickets are now available for both shows of this very fun event that will be catered by Thysen & Debi Scott of GBF (God Bless Food).
The 2017 performance, titled "Prescription For Murder", is presented by the Port Townsend Mystery Players.  Attendees may choose from two performances on Friday and Saturday evenings, December 1st  and 2nd at the Oscar Erickson Building at Jefferson County Fairgrounds, 4907 Landes Street in Port Townsend.  The evening includes drinks, socializing, silent auction and displays from Kiwanis, Head Start and other fine organizations.
"Tickets typically sell out, so purchasing them now is really essential," said David and Mary Crozier, chairs of the Kiwanis committee. "There are tables for groups of six at both the Friday and Saturday shows; and the Dinner and a Murder show is a great place for businesses to hold their holiday parties." Tickets are advance sale only and sales will be cut off on November 24th in order to get a proper headcount for the dinner.
Ramon Dailey, who has written and directed the show for many years (and again this year) stated, "I'm really excited and grateful for getting another chance to put on one of our shows. I get to be creative with some of my best friends, entertain the community that I love, and raise some money for a great cause. Come join us!"
Our cast (the PT Mystery Players) is a group of young and more mature amateur actors who donate all their time and talent to the cause and we are deeply grateful for them. We promise you an evening of fun, laughter, and fine dining!
The cost of the ticket, which includes the dinner and show, is $55 with all proceeds benefiting the Jefferson County Children's Programs supported by the PT Kiwanis Club and Olycap. Tickets are available at brownpapertickets.com or by contacting Mary Crozier at 360-531-0200 or maryc@ptpc.com.  You can also order your tickets via mail by filling out and mailing this Ticket Order Form.
Dinner and a Murder was first started in 2006 by Bob & Kathleen Logue as a fundraiser for the OlyCap RSVP program.  After Bob's retirement, David Crozier and the PT Kiwanis Club have taken over its sponsorship and it now serves as a fundraiser for both Kiwanis and OlyCap's children's programs.  Crozier said "with dinner catered by GBF (God Bless Food) and entertainment from Dailey and the PT Mystery Players, we are guaranteed to have a great evening." Port Townsend Kiwanis Club members are part of Kiwanis International, a global organization of individuals dedicated to serving the world, one child and one community at a time.  More than 13,000 clubs make their mark by responding to the need of their communities.  This way they truly are "Serving the Children of the World".
Please explore the site to learn more about the show, our cast, Kiwanis, and to purchase tickets.  We look forward to seeing you at the show!